Stock Charting Software Review - Trade-Ideas.com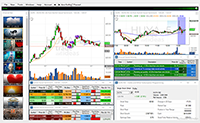 The Trade-Ideas.com platform scanning system is designed to look for and find exceptional trading opportunities and trade set ups in real time throughout the trading day.

It scans the market in real time and then streams and displays the set ups as they happen right on your screen using graphical alert windows.

The software is pre-programmed to scan for quite a number of different set ups but you can also create your own variations or signals by just dragging and dropping different filters into place.

The nice thing about this drag and drop feature is that you don't need to spend years learning a programming language.

While being easy to use, there is a lot of training and support available to help you get up and running as well.

The program comes as both a browser-based and downloadable stand alone version.

The nice thing about both versions is at all of the processing is done on Trade Ideas' end - it doesn't rely on or require your computer to do all of the processing.

This may seem like it isn't a big deal, but trust me on this one - there is no way your computer would be able to process data for thousands of stocks in real-time.

The computing power needed to do this is incredible and would cripple a normal computer.

Needless to say, this is important for us as traders as we need to keep our processing power for making quick and efficient trades with our broker - not for doing research!

A lot of other scanners are set up to have your computer do all the processing - which will strangle your computer's performance.

Trade Ideas was founded in 2002 and covers both the US and Canadian Equity markets using artificial intelligence (AI) to scan and filter the markets to return the best set ups possible for you to make your trading decisions.


Trading With Artificial Intelligence
For swing traders, Trade Ideas has developed their Holly AI trading program to help them with the best setups available, giving 3 different levels of risk/reward.

They call these three different levels Holly Grail, Holly 2.0, & Holly Neo.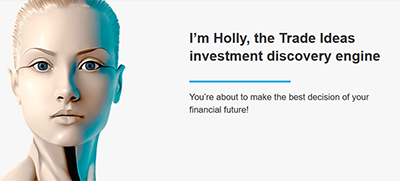 At the end of every trading day, Trade Ideas' AI program (Holly) filters the market through 35 different strategies in order to come up with a list of potential swing trade ideas.

From this original list, it then further filters the trade ideas through additional Trade-Ideas filters to decide what should be modified to improve the outcome.

After this, the list is then re-checked and filtered again to verify the potential trade set ups to select only the strategies with a historical win rate above 60% and a 2:1 potential profit.

The program then spits out both entry and exit points for any of the returned trade set ups.

And this happens at the end of every trading day, so it changes as the market changes - keeping your strategies up to date and relevant to the changing trading environment.


Backtesting
Trade Ideas also allows you to use their OddsMaker program to help backtest your strategies. As you know, backtesting a new strategy is incredibly important - especially if you're making your own or setting up custom trading alerts within the program .

Using their AI system allows you to follow along and watch their system dissect the market and enter trades and manage risk without human emotion - basing everything on the numbers and the backtested algorithm, making it a great way to learn and get a feel for the market.


Pricing
There are are currently two different data options: a Standard Plan and a Premium Plan.


The Standard Plan includes:
Streaming Trade Ideas
10 Simultaneous Charts
Chart Based Visual Trade Assistant
Up to 500 Price Alerts
Channel Bar—Curated Workspaces by TI
Live Trading Room—Hosted by Barrie Einarson


The Standard Plan has two different pricing options: a yearly price of $1068 or a monthly price of $118.


The Premium Plan includes:
Everything in Standard plus
20 Simultaneous Charts
A.I. Virtual Trading Analyst—Holly
Up to 500 Price Alerts
Entry and Exit Signals
Risk Assessment
Chart Based A.I. Trade Assistance
Build and Backtest any Trade Idea


The Premium Plan also has two different pricing options with the yearly pricing being $2268 and the monthly price being $228.

So to access the Holly AI trading feature and the OddsMaker Backtesting option, you will need to have a Premium Plan.

You can check out the different pricing details and everything that is included here


Support and Tutorials
Trade Ideas has an extensive collection of training videos and tutorials designed to get you up and running with their software as quickly as possible.

They also feature weekly webinars to go over different aspects of the software and trading.

I've found the software to be fairly intuitive on its own, but these videos are invaluable.

If you need more help than that, you can always book a training session with one of their staff.


Trading Community
Another great feature of Trade Options is that they have a free trading community where you can follow along with other traders, get specific help with the software and connect with other like-minded traders.


Conclusion
If you're doing any sort of trading at all, you need to be trading the right stocks.

It doesn't matter how great your strategy is, if you can't find great stocks to trade at the correct time you'll miss out, and trying to do this manually without any sort of help is nearly impossible.

And with Trad-Ideas' ability analyze and filter thousands of stocks and cut through all the noise to only bring you the stocks that have the proper set ups that are important to you, I can't recommend it enough.

I highly recommend you checking out their system by going to their website here.